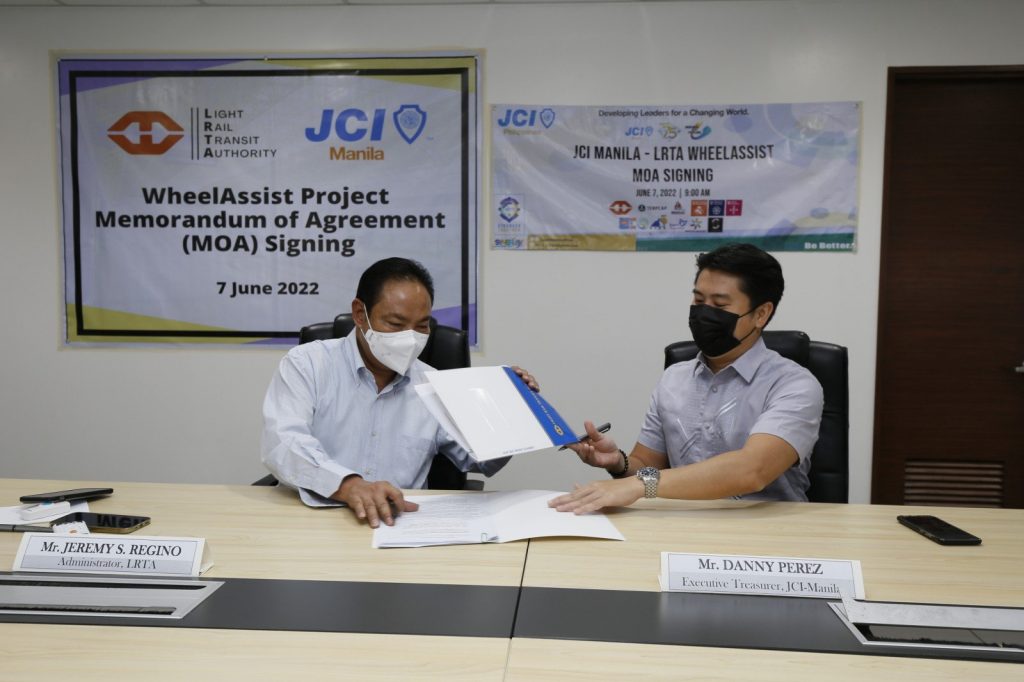 The Light Rail Transit Authority on Monday has inked a partnership with the Junior Chamber International-Manila (JCI-Manila) for the implementation of a "WheelAssist" Project which aims to improve the commuting experience of Persons with Disabilities (PWDs) at LRT 2.
Covered by the LRTA- JCI-Manila partnership is the provision of training to LRTA customer-facing staff on how to handle and engage with Persons with Disabilities (PWDs) and the installation of braille stickers at the Ticket Vending Machines (TVMs) to aid the visually impaired passengers.
The training on Non-Visible Disability, Sensitivity and Awareness with Basic Filipino Language will be facilitated by TERPCAP, an accessibility services provider that enables organizations to become more accessible and inclusive. An estimated of 900 frontline personnel of LRTA are scheduled to undergo the said training in batches starting June 20, 2022.
The collaboration was formalized through a Memorandum of Agreement signing ceremony led by LRTA Administrator Jeremy Regino and JCI- Manila Executive Treasurer Danny Perez at the LRTA Pasay Depot on Monday, June 6, 2022.
"The awareness and support of Persons with Disabilities (PWDs) has been one of the cornerstone advocacies of JCI Manila for the past several years. We would like to extend our heartfelt gratitude to our partners from the LRTA and TERPCAP for this joint effort in continuing and further developing this advocacy", said Richard Lim, President of JCI-Manila.
Lim added that accessibility and ease of use of transport facilities promote inclusivity for our PWD brothers and sisters, the effects of which can be immediately felt especially in terms of better quality of living and greater economic benefits. Through more inclusive policies and programs, we may be able to not only rebuild the confidence of our PWD brothers and sisters, but also rebuild a more equitable society.
"We are thankful for the partnership. The training will help our frontline personnel to be more knowledgeable and responsive to the needs of our PWD passengers," LRTA Administrator Jeremy Regino said.
"LRTA looks forward to more collaboration with JCI-Manila in the future as we explore more ways to improve the riding experience of our passengers", Regino added in his speech during the MOA signing.
Joining the signing ceremony were Dr. Paul Chua, LRTA Deputy Administrator for Operations and Engineering, JCI-Manila Board Director Carlo Delantar, Project Leader Shane McDonnel, Chair Martin De Joya and Chair Santi Dimaculangan.