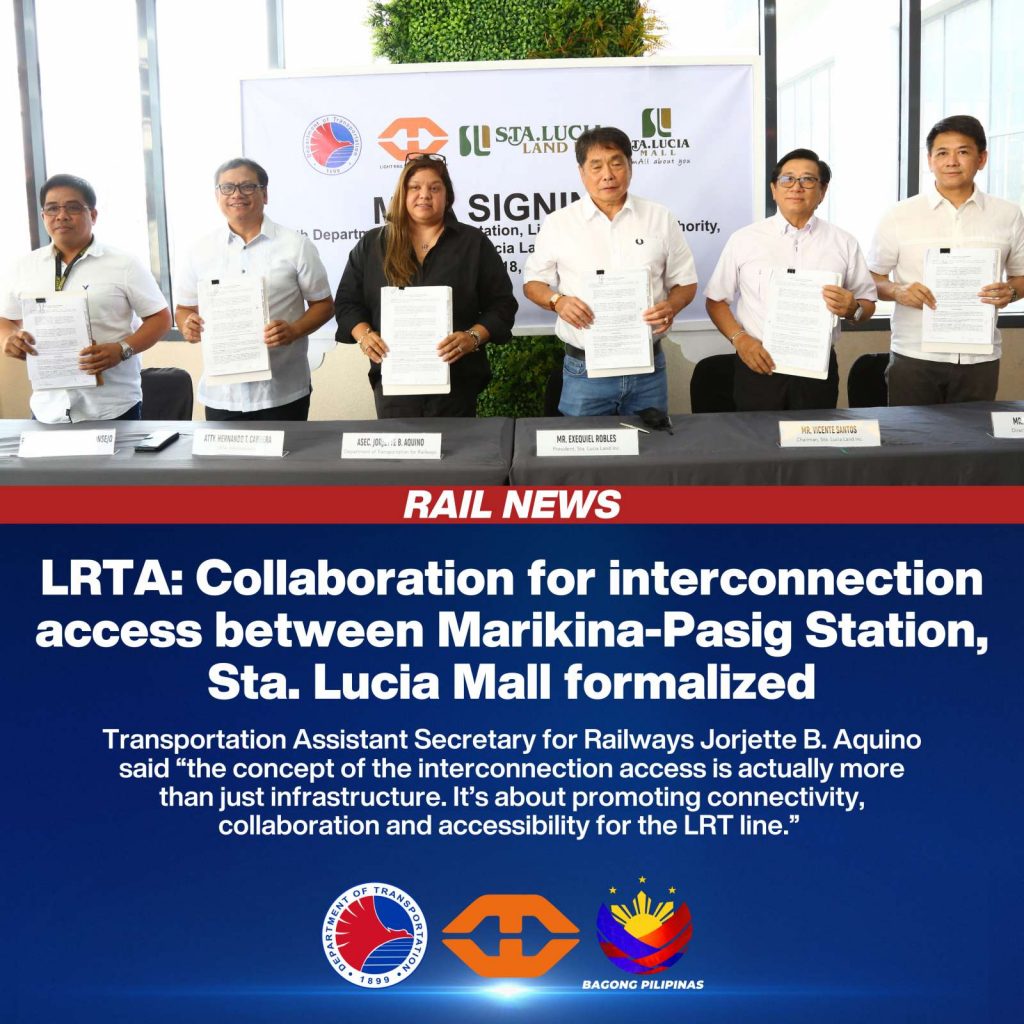 The interconnection access facility between Marikina-Pasig Station and Sta. Lucia Mall will deliver safe, reliable and efficient service for commuters of the Light Rail Transit (LRT) Line 2.
This was the remark of Transportation Assistant Secretary for Railways Jorjette B. Aquino after the Light Rail Transit Authority (LRTA) and Sta. Lucia Land Inc. (SLLI) formally agreed to collaborate for the interconnection access facility between the station and the mall.
Asec. Aquino, together with LRTA Administrator Atty. Hernando Cabrera and SLLI President Ezequiel Robles signed the memorandum of agreement to formalize the collaboration for the facility.
In a speech during the signing ceremony, Asec. Aquino said "the concept of the interconnection access is actually more than just infrastructure. It's about promoting connectivity, collaboration and accessibility for the LRT line."
"Sta. Lucia Land takes this step with us towards progress by granting a portion of their property to LRTA which is necessary in the construction [of the link] to the LRT Line 2 Marikina-Pasig Station," the railway official said.
"This is driven by their commitment to facilitating convenient and efficient transportation to the people," she added.
Asec. Aquino also emphasized that the collaboration with SLLI "will create a transportation network that brings not only economic benefits but also community development and sustainability."
"This will showcase the partnership between government and private sector in providing better services for the commuting public," Asec. Aquino said.
"We would like to thank Sta. Lucia Land for your trust, partnership and shared dedication as we set the wheels in motion where interconnectivity, accessibility and safety are within everyone's reach," she said.
Likewise, LRTA Administrator Cabrera recognized SLLI's contribution to allow the construction of the station's foundation on their property.
"I extend my sincere appreciation to SLLI for their invaluable collaboration to the realization of the LRT-2 East Extension Project. Their generous contribution in permitting the construction of the LRT-2 station's foundation on their property has played a pivotal role in the success of the project," the LRTA administrator said.
"We value their commitment to enhancing public transportation infrastructure, and this partnership has undoubtedly contributed to the progress of improving our public transport infrastructure," he added.
Earlier in April, the interconnection access facility underwent an initial dry run, offering commuters a glimpse of the enhanced commuting experience that awaits them. The facility aims to improve the overall transportation network in the area.