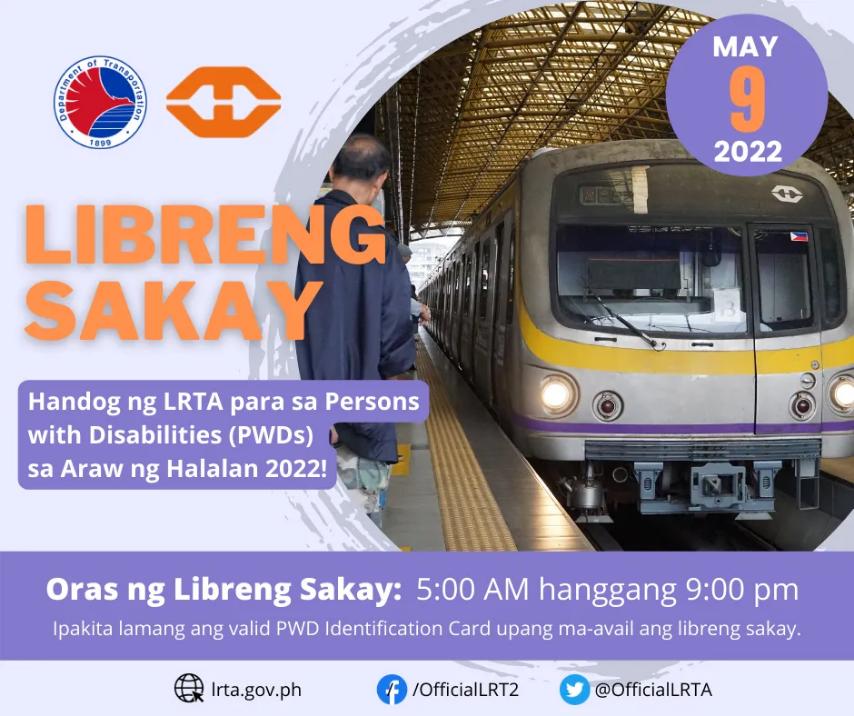 The Light Rail Transit Authority announced on Saturday that LRT-2 will provide free ride to Persons with Disabilities (PWD) during the National Election on May 9, 2022.

The free ride is one of the proposed measures of the Department of Transportation (DOTr) through its Task Force on Disability Affairs to provide accessibility for Persons with Disabilities (PWDs) during the election.

All PWDs may avail of the free ride at LRT-2 anytime between the first commercial trip from 5:00am until the last commercial trip at 8:30 pm (Antipolo station) and 9:00pm (Recto station). A PWD passenger must present his valid PWD ID to the security/station personnel upon entry at the AFCS gates to avail of the free ride.

"The provision of accessible transportation is one of the main requirements for PWD to be able to participate in the national elections. LRT-2 is ready and available to accommodate them," LRTA Administrator Jeremy Regino said.

LRT-2 is designed to be commuter-friendly especially for the mobility-impaired because of its accessibility facilities such as ramps, elevators engraved with braille, pathfinding tactiles, braille staircase handrails and restroom.

Regino also encourage all PW's who will take the train going to their voting precinct to stay at the Special Boarding Area (SBA),designated area for Senior Citizens, PWDs and pregnant women. Designated spaces for wheelchair users are available inside the trains.

LRTA reminds all PWD passengers to observe/follow all safety and security protocols as well as the minimum health protocols such as mandatory wearing of face mask, and no talking and phone calls which are still being implemented inside the trains and stations.