Commuters to enjoysafe, easy transit to bargain hunter's mecca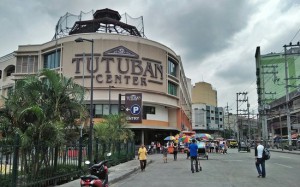 14 October 2019 LRT-2 to extend to Tutuban, Divisoria, Pier 4Commuters to enjoy safe, easy transit to bargain hunter's mecca MANILA–Millions of commuters will soon enjoy safe and easy travel to the country's bargain hunter's mecca as the Light Rail Transit Authority (LRTA) started working for the five-kilometer westward extension of the LRT-2 System to Tutuban, Divisoria, and Pier 4.
"Mas magiging madali na ang biyahe ng mga gustong pumunta para mamili sa Tutuban at Divisoria, o mga sasakay  sa  barko sa  Pier  4  ng  North  Harbor.  [Easier  journey  awaits  commuters  who  wish  to  make purchases at Tutuban and Divisoria, or those who will journey via ships found in North Harbor]," said LRTA Administrator Reynaldo Berroya.
 Travel  time  from  Recto station to  Pier  4 is  estimated  to  only  take  five  minutes  while  travel  time  from Masinag station to Pier 4 will not exceed an hour.
The Administrator also noted that theLRT-2 West Extension Project is a government-approved design and build  project  that  aims  to  get  more passengers  to  take  the  LRT-2,  help  ease  traffic  congestion  in  the Metropolis area, and help mitigate climate crisis by minimizing fossil fuel use.
The P10.1 billion West Extension Project is targeted to be finished by 2023.
Financed by the Philippine government, this extension project is part of the Duterte administration's "Build, build, build" program.
The LRTA has given the consultancy project to WesTrax Joint Venture with the Notice of Award given on July 19, 2019 and the Notice to Proceed on August 16, 2019.
WesTrax JV will  assist  in  the  bidding  process  for  the  contractors that  will  work  on  the  project  for  which procurement is projected to start by January 2020.
Currently,  the  LRT-2  System  which  traverses  the  East-West  routes with  terminal  stations  at  Santolan  in Pasig  and  Recto  in  Manila,  moves  about  240,000  passengers  daily.Upon  completion,  this  number  is projected to add16,000more passengers each day.
"The increase  in commuters  who  will  benefit  from  the  extension  project  translates  to  the  reduction  of commuters not using Metro Manila's congested streets. LRT-2 as a public mass transportation will be the way to go for ease of commuting," said Administrator Berroya.