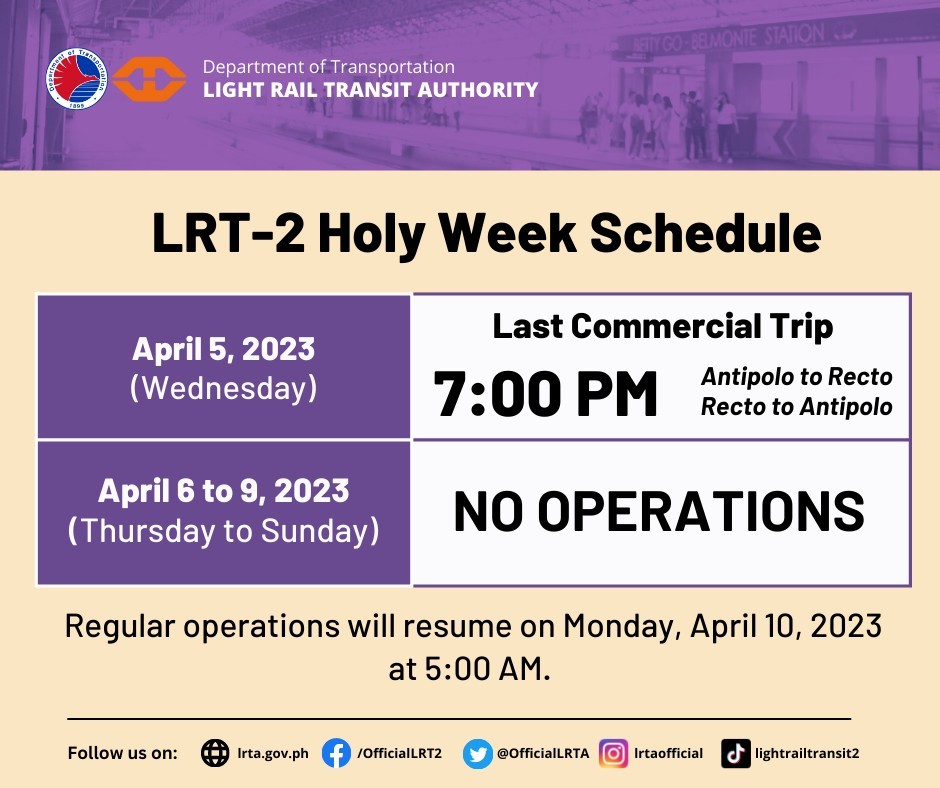 The Light Rail Transit Line 2 (LRT-2) will suspend its operations on Holy Thursday until Easter Sunday, April 6 to 9, but a day before the suspension of operations, on Holy Wednesday, April 5, it will implement a shortened operating schedule.
On April 5, the shortened operating schedule will be at 7:00 p.m. only for both routes bound for Recto and Antipolo.
In the observance of the Holy Week, the Light Rail Transit Authority (LRTA) is one with the Catholic Church in celebrating their most sacred week they piously observed every year.
Atty. Hernando Cabrera, LRTA Administrator, said that the four-day shutdown will give LRTA enough time to conduct thorough maintenance on LRT-2 trains, station facilities, and equipment to ensure the system's reliability and safety.
"We normally take advantage of the Holy Week to perform our yearly maintenance activities. With this, we appeal for understanding from the riding public and request that they plan their trip and take alternative transportation during this period," Cabrera shared.
After the Holy Week, the normal operations of the LRT-2, which connects Recto and Antipolo, will resume next Monday, April 10, 2023, with trips starting at 5:00 a.m.