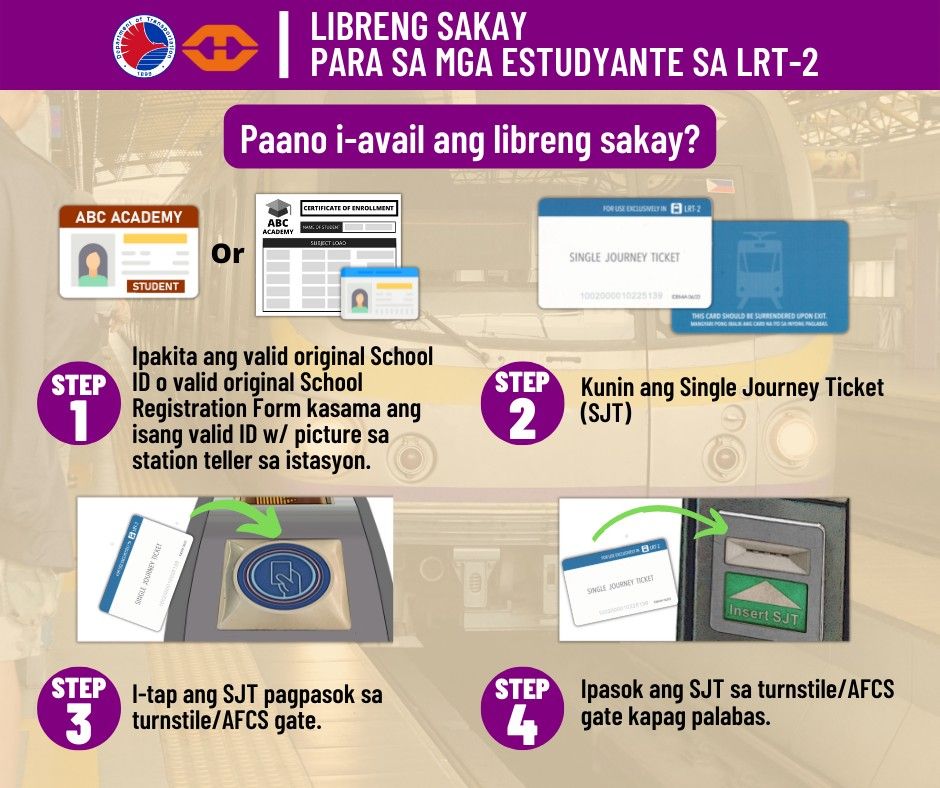 More than 2 million students will benefit from the Libreng Sakay Program that will run from August 22-November 5, 2022.
Light Rail Transit Authority (LRTA) Administrator Atty. Hernando T. Cabrera said that an estimated 2.2 million students are expected to benefit from the program for the given period as LRT-2 (Antipolo-Recto) is situated along eighty (80) universities, colleges, and schools. The typical weekday average ridership of LRT-2 before the pandemic is 90,000-100,000 per day.
The "Libreng Sakay Program", which aims to ease the burden of Filipino families amidst the rising cost of fuel and essential commodities, and the still raging COVID 19 pandemic, was recommended by Transportation Secretary Jaime J. Bautista to President Ferdinand Marcos Jr. during the second Cabinet meeting.
"We have prepared a system to ensure the safe, smooth, and efficient implementation of the program in compliance with the directive of the Department of Transportation" Cabrera stressed.
The Libreng Sakay will be offered to students enrolled in nursery/kindergarten, elementary/primary, high schools, technical- vocational, and college students daily from Mondays to Saturdays, except Sundays and holidays from 5:00 am to 9:30 pm. However, the program does not cover students taking graduate studies.
To avail of the free ride, students must present their original school ID or original registration form at the Passenger Assistance Office (PAO) for the issuance of the Free Ride Ticket. The Free Ride Single Journey Ticket is non-transferrable and valid only for one (1) day.
All students who will avail of the free ride shall be subjected to the usual security inspection procedure and health and safety protocols at the stations/ trains.
Cabrera added that the free ride will be only offered this first quarter of the school year 2022-2023 in time for the gradual resumption of face-to-face classes and will revert to the grant of 20% discount to students after the program.