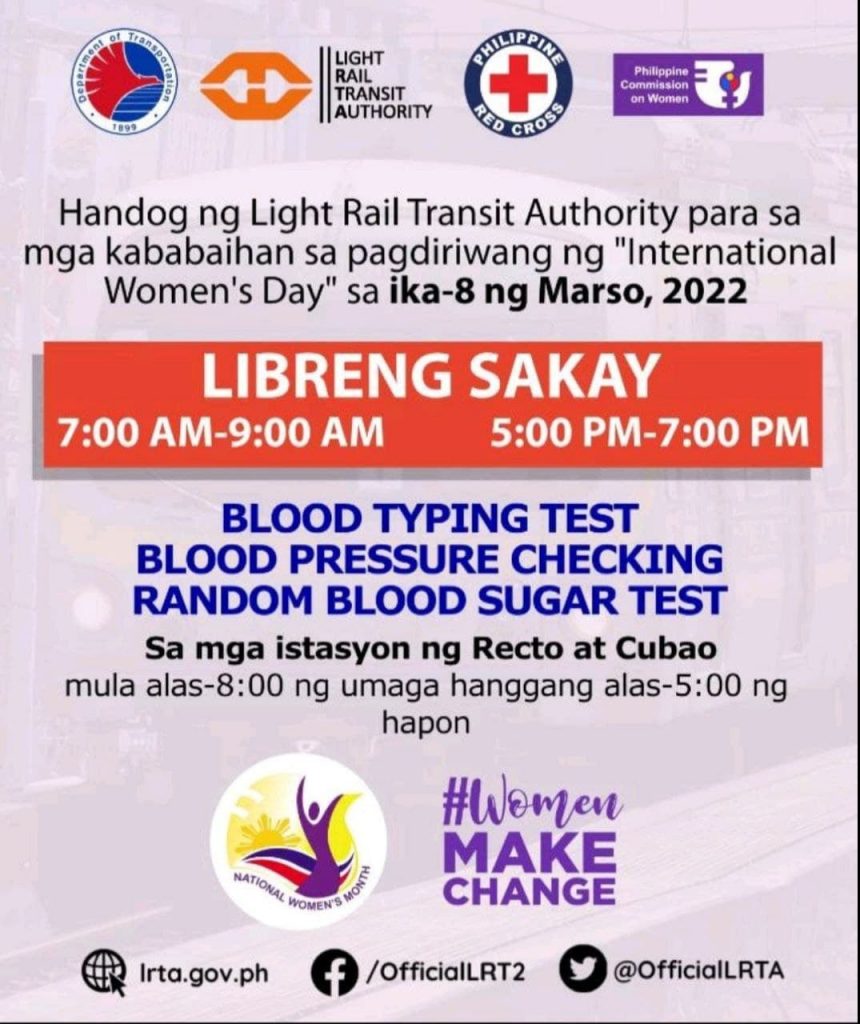 The Department of Transportation (DOTR) and the Light Rail Transit Authority (LRTA) join the celebration of the 2022 National Women's Month with the theme, "We Make Change Work for Women".
As part of the month-long celebration, DOTR and LRTA will offer free rides and other special treats to female passengers during the celebration of International Women's Day on Tuesday, March 8, 2022.
The free ride will be given during peak hours from 7:00 AM to 9:00 AM, and from 5:00 PM to 7:00 PM at any LRT-2 station.
The DOTR and LRTA also partnered with the Philippine Red Cross-Marikina and Manila Chapters for the conduct of Blood Typing Test, Blood Pressure Checking and Random Blood Sugar Test at Recto and Araneta Center-Cubao stations from 8:00 AM to 5:00 PM.
"These activities aim to honor and recognize the indispensable role of women in our society as well as reaffirm DOTR and LRTA's commitment to gender equality and women empowerment," said LRTA Administrator Jeremy Regino.
The LRTA, through its Gender and Development Committee (GAD), ensures the provision of gender-responsive rail services to the riding public through its projects, programs and services such as the conduct of various trainings aimed to increase awareness of women employees on their rights and to realize their full potential as an active agent for societal change.
The 2022 National Women's Month Celebration endeavors to highlight the gains and achievements of women, to assess action towards gender equality, and to continuously promote undertakings for women empowerment. ###